Inverness Elementary School, Home of the Hawks!
Welcome back to Inverness Elementary School, Home of the Hawks! I am excited to be entering my 6th year as Principal of Inverness Elementary School and my 24th year in education.
Having been a part of SCCSD for thirteen years now in different roles, I can say without a doubt that my favorite thing about Inverness Elementary School is our small community environment! This enables us to be able to get to know each student personally and support them as they achieve their goals. Our family is committed to providing every student with a safe, caring, and positive environment that encourages each student to realize, desire, and reach their full potential – academically and as a member of our community. We believe this is critical to students graduating on time and becoming productive citizens.
While the 2020-2021 school year was one for the books, I am so proud to have been a part of our school community during the height of the pandemic! Our students, staff, parents, and community did an outstanding job keeping each other safe both virtually and face to face.
As we enter the 2021 – 2022 school year, we will face many challenges that we have never faced before. Nonetheless, I am confident that this school year will see us meet those challenges and demonstrate how educators succeed where others fail. It is our ability to adapt, to do more with less, that allows us to persevere. We have ONE GOAL for 2021-2022 and that is to GROW EVERY STUDENT! We will achieve this goal through Rigor, Relevance, and Relationships (The 3 R's). We will provide a learning environment that promotes both social and emotional success through a Rigorous Academic Curriculum and a School Culture that focuses on Relevant Connections and building strong Teacher – Student Relationships.
I strongly believe that TEAMWORK is the path to success during any undertaking. Likewise, a partnership between school and home encourages each child to achieve more and strive for success in their current and future goals. The IES family will maintain the lines of communication with students, parents, the community and each other as we journey through this year. With hard work, dedication, and determination WE (School Leadership, Teachers, Support Staff, Students, Parents, Partnerships, & Community Members) will make this coming school year the BEST year yet. We look forward to partnering with you during the school year to be able to provide support at school and home for your child.
Sincerely,
Brenda Singleton
brendasingleton@sunflower.k12.ms.us
662.265.5752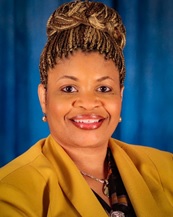 We will be recognized nationally for its rigorous curriculum, academic excellence and extracurricular achievement.
Strengthened by diversity, our district will foster partnerships of staff, families and the community to develop students' educational, physical and social-emotional well-being.